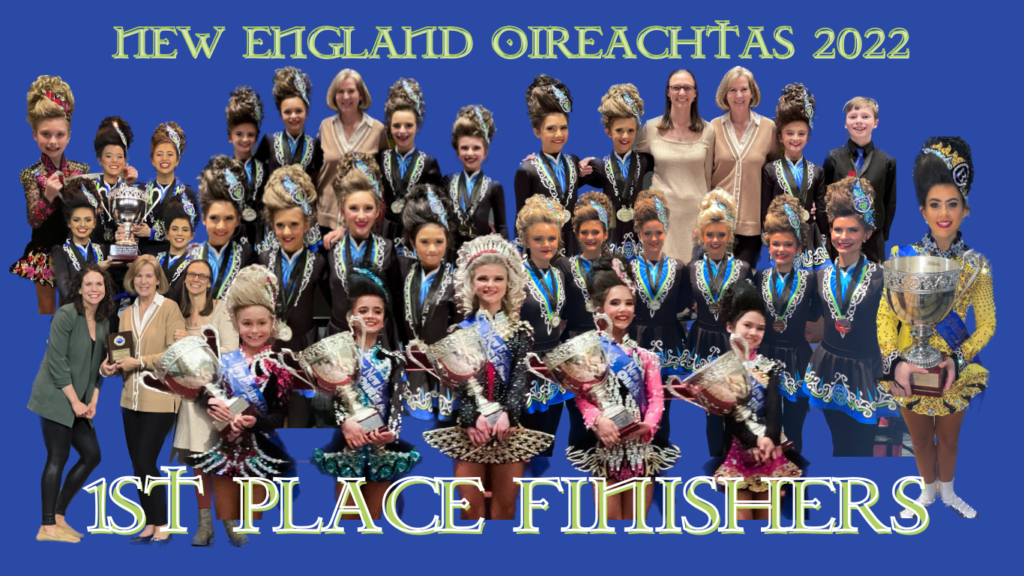 Congratulations to our 96 dancers who participated in the 2022 New England Region Oireactas in Hartford, CT! With 15 dancers in the top 5 of solo competitions, 8 dancers in the top 5 of Traditional Set, 13 teams on the podium and 25 World Qualifiers, this was our strongest showing in our 17-year history as a schooll! More important than the competitive results, however, was the development and growth of the dancers throughout the course of preparation. They worked very hard and became stronger and more resilient throughout the Fall. We are very proud of all of them!
Special congratulations goes to Brigid O'Connor, who won her 8th Oireachtas championship—what an amazing track record.  We are so proud of her, and all our 1st place winners this year, including
U9 Championship—Rowan Wong (x2)
U10 Championship—Kelsey Lema
U11 Championship—Brielle Maguire (x2)
U12 Championship—Abby Hayes
U13 Championship—Scarlett Petrarca (x3)
U17 Championship—Brigid O'Connor (x8)
U9 Traditional Set—Aly Philbrick
U12 Girls Ceili Team A—Abby H, Brielle M, Delaney G, Maeve M, Ayla L, Riley H, Rowan W, Ellie C
U15 Girls 6-Hand Team A—Andrea C, Ava K, Katie C, Sarah H, Sela S, Lauren L
U12 Mixed 4-Hand Team A—Sebastian L, Brielle M, Abby H, Delaney G
U15 and over Girls 4-Hand Team C—Brigid O, Elaina N, Tierney F, Charlotte M
What an amazing Oireachtas for the Murray Academy dancers!! We are so proud of each and every one who participated and represented Murray Academy so well, and are excited to see what the new year will bring for each of our dancers!
Please see the results summary here for all the highlights, including the dancers who are now qualified to compete at the World Championships in Montreal this April.